A dead man apparently attempted to collect his pension in an Irish Post Office. Ably assisted by two living accomplices he arrived or was brought to Staplestown Road Post office, Carlow town on January 21st to collect his pension as he had regularly done while alive.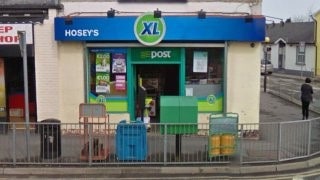 A man had called to the post office earlier in the morning and asked to collect a pension on behalf of an elderly local man. He was informed by a Post Office staff member that the man had to present himself in person in order to collect his pension. The man then left.
A short time later in an incident that seemed to come straight from a "Faulty Towers" episode two men arrived back helpfully propping up the pensioner in question between them. They had to wait for some time in a queue but finally they carefully manoeuvred him towards the Post Office counter.
He Didn't Look Well
Staplestown Road Post Office is a small sub Post Office and only three people are allowed inside at a time because of social distancing requirements. Observers were in shock as the man appeared to them to be having a heart attack.
The men supporting him appeared to be attempting to pretend he was still alive having dressed him up in a coat and donning a face mask on him. A passerby said "He certainly didn't look well". Passersby are experts in those matters.
When an alert staff member expressed concern by asking about the wellbeing of the man his two helpers panicked, dropped him and fled. On examining him Post Office staff ascertained that he was well and truly dead. No money had been handed over. It is understood locally that the deceased man was well known to the two men who were propping up his body. An observant passerby said the man seemed very unwell as his feet were dragging along the ground behind him.
Gardaí Take Charge
After this bizarre incident which happened on January 21st at Staplestown Road Post Office in Carlow town Gardaí were called to the scene. A Garda spokesperson said: "Gardaí are investigating all the circumstances surrounding the unexplained death of an elderly male in the Carlow area this morning, Friday 21st January 2022.
"The services of the Garda Technical Bureau and the Office of the State Pathologist have been requested.  "A post mortem will be conducted by the Office of the State Pathologist, the results of which will determine the course of the investigation. No further information is available at this time."
Local Politicians Were Shocked
In their time honoured if somewhat ridiculous cosy little arrangement the media always calls the local politicians for their comments following any incidents in an area to give them the opportunity to generate some free publicity for themselves.
Never one to miss a media opportunity the Mayor of Carlow, Fianna Fáil Councillor Ken Murnane expressed shock at the news. "I heard there was a commotion in the Post Office. I go by there all the time and it's a very busy post office – normally there'd be a queue out the door there. I was absolutely shocked to hear about what happened. I cannot believe anyone would do something like that. It beggars belief, I'm just shocked."
Not one to miss a media opportunity either local Fine Gael councillor Fergal Byrne apparently speaking authoritatively on behalf of everyone in Carlow said "The whole town is in shock. The man who passed away was a nice man by all accounts and someone who caused no offence to anyone. The staff in the shop are very shook up from it. I'd like to offer my sympathies to the man's family also. It's a bizarre and upsetting situation."
In the interest of balance Independent councillor John Cassin was given the opportunity to have his say and not to be left out, he said the bizarre news has left the local community stunned. "People are just shocked, I don't even know what to say" he said. Nobody asked the two men in question for a comment except presumably the Gardaí. There are unconfirmed rumours that Frank Hall of 'Halls Pictorial Weekly' is to be exhumed to conduct a proper media investigation of the incident as was the journalistic custom in his time. We await further developments with interest.