Decisions made in Davos are not made in the interests of nations or their people. The Global elites and their annual "World Economic Firum" gathering in Davos are intent on the destruction of the nation state in favour of corporate feudal globalism. What are Micheal Martin and Leo Varadkar doing there?
Micheál Martin and Leo Varadkar have been criticised for jetting off to Davos to "party" at the World Economic Forum. If that was all they were up to we wouldn't have any real problem with them going there but we do. The theme of this year's meeting is 'History at a Turning Point: Government Policies and Business Strategies.' The Taoiseach and Tánaiste our Laurel and Hardy duo will mingle with the world's elite, leading business tycoons, dodgy bankers, Big Tech techies and likeminded politicians all pursuing the goal of global corporate feudalism at this event. They will be introduced to all of those no doubt by Denis O'Brien a regular attendee at Davos. Our dastardly duo, Taoiseach and Tánaiste will also be mixing with like minded politicians from more than 50 other countries from around the world. The question is, why would the Taoiseach and Tánaiste both be in Davos? Maybe we should ask, why would Laurel be without Hardy?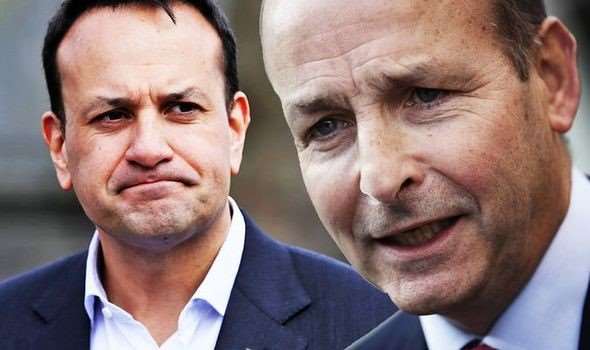 Micheal Martin justified his trip to Davos by saying: "the Annual Meeting of the World Economic Forum is an important opportunity to outline Ireland's perspectives on the global and European challenges we now face, including Russia's immoral war on Ukraine and its consequences – including for energy and food security – and the increasing economic pressure of inflation and its impact on the cost of living for people around the world. "Throughout my engagements, I will stress the fundamental principles that underpin Ireland's approach, including our commitment to an open, sustainable, fair and rules-based international order, which can support economic recovery and global political accountability."
More Spin for Martin
A spokesman tried to justify Martin's presence in Davos by spinning the line that "on Wednesday, the Taoiseach will participate in a live high-level panel debate on how the EU has responded with speed, scale and unity on the COVID-19 pandemic and Russia's war on Ukraine. Among those joining him on the panel will be President of the European Parliament, Roberta Metsola, ECB President, Christine Lagarde, as well as the Prime Ministers of the Netherlands and Slovakia. During his visit, he will meet bilaterally with a number of political leaders and with senior executives from multinational companies with significant operations and employment in Ireland."
It's All Theatrics
This year's star performance will be the virtual appearance of Ukrainian President Volodymyr Zelenskiy. The Ukrainian billionaire Victor Pinchuk who created his front man President Volodymyr Zelenskiy has invited guests to a viewing of Russian war crimes. There will be scheduled sessions on "The Return to War," "Cold War 2.0," "Where is Russia headed?" "Sanctions," and the possibility of "An Economic Iron Curtain" arising between the NATO controlled West and Russia
A James Bond Villain
The WEF's founder president, Klaus Schwab is an old James Bond movie villain caricature in every sense of the word. He will be launching "a landmark initiative to strengthen global collaboration." The overriding theme of "The World Economic Forum" (WEF) annually preaches the benefits of the global economy ad nauseum and celebrates the wealth it produces for the mutual admiration society in attendance. If you didn't arrive in a private jet you are nobody.
Treason
Davos is where decisions are made under the influence of the corporate power elite by politicians who are in awe of them that affect the lives of you and me. Those are decisions that should be discussed, debated and decided upon in national parliaments by the elected representatives of the people. But then the elimination of the nation states is the stated aim of the WEF and its replacement by a corporate feudal system commonly called "The New world Order" run by the elite for their own benefit. That is why our elected representatives should not be in attendance. The presence of Micheal Martin and Leo Varadkar at Davos is tantamount to treason.
This Year's Davos Theme
A poll of WEF delegates held in January revealed that their priorities had shifted from strictly political and economic issues to social and environmental problems and mental health issues. Such themes will take second place while Corporate CEO's and their political yes men focus on the prosperity brought on by globalization, free trade and peace. (What peace?). They ignore the fact that war also a features in the international system except that Putin whose non presence is an overriding presence this year has jolted them out of self congratulatory complacency. Wars in Afghanistan, Iraq and Syria didn't count as they were under control and were largely regarded as American or western policing operations.
War in Europe
War in Europe was unthinkable until it happened for those in Davos with short memories who never heard of Yugoslavia and Americans bombing Belgrade. Even after Putin's Ukraine reaction to NATO expansion, with the West's corporate and political leaders falling over each other imposing sanctions on Russia, they were still talking out of the other sides of their mouths claiming that all free trade is good and that the market economy will bring about Utopian change in societies.  China's successful adoption of the market economy is regarded in Davos as one of the great events of our lifetime. Yet this revolution has been accompanied by ferocious domestic repression, the rise of the surveillance state and "wolf warrior" diplomacy abroad.
The Dastardly Doings of Davos
Davos has ended in previous years with some of the wildest parties in any town. The behaviour of pompous politicians on the loose and away from the glaring eyes of potential publicity would more than raise the eyebrows of those that voted for them. In the absence of Covid or monkeypox the Davos organ grinders will attend the most decadent parting party this side of Bohemian Grove the likes of which decadence was created for. Meanwhile protestors clash with police outside. Will Micheal and Leo be in attendance?