Episode 2
A flurry of unwelcome activity has been taking place in the otherwise tranquil environs of inland Fisheries Ireland. With one senior staff member suspended – with full pay no doubt – at Inland Fisheries Ireland (IFI) followed by two board members resigning in quick succession and no less than three enquiries probing its alleged irregularities Inland Fisheries Ireland finds itself under the unwelcome glare of the spotlight. The two board members who resigned were its chairman Fintan Gorman and Seamus Boland. There is a strong likelihood of further resignations from the rattled board. This is a board that funded an angling club that never existed.
The Rotten Fish Hit the Fan
IFI is rattled to its core with two board members resigning to date as the rotten fish hit the fan and with Environment Minister Eamon Ryan appointing barrister Conleth Bradley to conduct a probing review. The Department of the Environment said Mr Bradley is examining matters related solely to the conduct of the board. Were they asleep on the job?
Issues aired by Sean Kyne in the Seanad are separate to those being examined by Mr Bradley and they have resulted in an internal audit. Those issues or irregularities were then brought to the board's attention. Had they been kept in the dark concerning those and other activities up until then or were they asleep on the job? As a result findings were forwarded to the Comptroller and Auditor General for further examination.
Nefarious Activities
The activities that resulted in the staff member's suspension are being investigated separately by an IFI appointed external consultant. To summarise, the following is just some of the activities that went on in 'Inland Fisheries Ireland'.
The IFI had a fleet of uninsured vehicles on the road which only came to light when one crashed.
An IFI leased a lavish historic home to an employee with no financial record who ran it allegedly as a B&B but it was in fact openly running as a fully functioning top class hotel.
Funds intended for projects that helped people with special needs or disabilities were inappropriately used.
The highly qualified I.F.I. Board funded an angling club that never existed.
Funding of less than €10,000 was paid to another angling club on behalf of the nonexistent angling club.
The Sligo angling club 'did not have a bank account'and appeared to have been set up for the sole purpose of applying for IFI funding.
Last year protection crews in certain coastal areas did not do any work.
The IFI Board of Directors Remit
IFI is a state agency charged with managing our inland and coastal fisheries taking in 74,000km of rivers, 128,000 hectares of lakes and coastal seas out to 12km from shore. The IFI website says: "Our board of directors is charged with providing strategic leadership and oversight of the organisation." The above is an example of their strategic leadership and oversight. Where does the book stop? IFI has a Board of 10 directors appointed by Ministers responsible for natural resources (three positions), the Minister responsible for rural affairs (one position) and by a Joint Oireachtas Committee (four positions). The remaining two positions are occupied by the Chief Executive Officer (ex-officio) and elected staff nomine. "The Board has established a standing Audit and Risk Committee to oversee our key areas of financial and risk management."
The IFI's board members:
Fintan Gorman, Chair has now resigned
Bernadette Orbinski-Burke
Seamus Boland has now resigned
Michael McGreal
Marie Louise Heffernan
Fiona Walsh
Seán Coady, Staff Nominee
Prof Frances Lucy
Mr Patrick Gibbons
Aspirations Not Met
"The Board of Inland Fisheries Ireland adheres to the framework of the Code of Practice for the Governance of State Bodies 2016 (the Code) in its application of best practice, taking account of developments in respect of oversight, reporting requirements and the appointment of Board members. The Code is based on the underlying principles of good governance: accountability, transparency, probity and a focus on the sustainable success of the organization over the longer term. The Board ensures that the organization adheres to the Public Spending Code in its procurement practices."
The turmoil at the top is taking its toll on the IFI's 400 employees with morale sinking fast.
Fawlty Towers at the IFI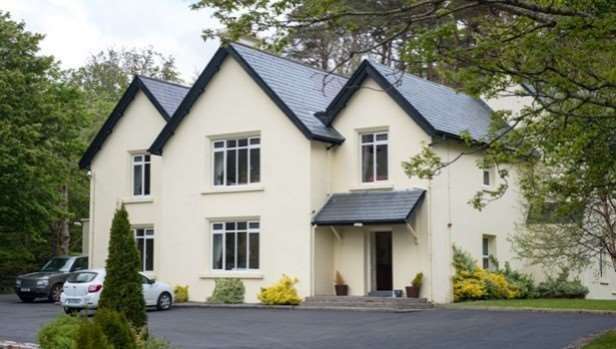 In a saga worthy of a TV series, Basil Fawlty wouldn't hold a candle to the cosy little internal hush… hush… leasing arrangement of Aasleagh Lodge. It was iffy IFI's very own Fawlty Towers set in an imposing property by scenic Killary Harbour. IFI's version of Basil Fawlty an enterprising staff member leased Aasleagh Lodge from the IFI and then ran it as a fully functioning hotel without any transparency or financial accounts. "We know nothing" Manuel said. An 'off the books' lease was put in place and the property was advertised as a "Hotel" on several rental websites. Manuel claims he knew nothing about any of this.
Aasleagh Lodge Country House Hotel
Aasleagh Lodge Hotel was hidden in plain sight. It was the Fawlty Towers Hotel that never existed while it operated as a fully functioning hotel in 2016 and 2017 with top hotel ratings. The following is how Aasleagh Lodge was presented as Aasleagh Lodge Country House Hotel in Leenane. This was no mere B&B enterprise.
"Aasleagh Lodge is a beautifully restored Victorian Country House in Leenane, Connemara situated beside Aasleagh Falls overlooking Killary Fjord.
Idyllically situated beside Aasleagh Falls, Aasleagh Lodge is a beautifully restored 19th century Victorian Country House Hotel in Leenane, best known as one of the great fishing houses of Ireland, with its unique location beside one of the finest spate rivers in Ireland. The lodge consists of 9 spacious and comfortable bedrooms, and was part of the estate of the Marquis of Sligo. The Lodge also has two adjacent self-catering cottages, just a short walk from the main building.
The lodge is set in 36 acres of mature woodlands with magnificent views over Killary Harbour and is surrounded by the beautiful mountain ranges of the Western Way. A short walk through the grounds brings you to the famous Aasleagh Falls, an internationally famous waterfall on the Erriff River. The Lodge is a perfect base for exploring the sights of Connemara on bicycle, with Kylemore Abbey and the Connemara National Park just a short journey away. With quiet surroundings and luxurious bedrooms, you are assured of a good night's sleep in comfort and tranquillity. Aasleagh Lodge and its self-catering Cottages are the perfect base for a true west of Ireland getaway."
Facebook. September 2016.
September Deal – 2 nights B&B in Aasleagh Lodge with 1 evening meal and a full day of fishing on the Erriff from only €189 pps this September! Call us on 095 42252 or book direct on our website! (2016 on Facebook)
Facebook. September 2016.
Fancy a new food experience or a gourmet night away or? 'A Killary Food and Wine Appreciation Event' takes place at Aasleagh Lodge on Fri, Oct 14th with Anthony Tindal of Tindal Wine Merchants and all are welcome! Ideal for food and wine lovers, you will spend an evening in this peaceful part of Connemara relaxing, overlooking Killary Fjord and enjoying:
Drinks and canapés reception in the lounge at Aasleagh Lodge
5 Course Dinner in the dining room
5 glasses of wine – one with each course
Event will be hosted by Anthony Tindal of Tindal Wine Merchants
All for €95 per person, from 7pm.
PLUS! There is a 20% discount on 4* accommodation at Aasleagh Lodge on Friday, October 14th. Enjoy a peaceful night's sleep, a full Irish breakfast the next morning plus receive a complimentary hour in the nearby Delphi Spa's Thermal Suite overlooking Mweelrea!
To book or for more info, click below or contact us on 095-42208.
Goodbye and Thanks for all the Cash
Aasleagh Lodge was abruptly closed down in 2017 without explanation. Now we finally know why. This is how the closure was announced.
"26 April 2017. We regret to announce that Aasleagh Lodge is closed and will not reopen in 2017. The river is open for fishing, however, and we will be taking bookings for fishing. To make an enquiry about fishing, please email Erriff.fishery@fisheriesireland.ie. We apologise for the inconvenience, especially to our long-standing annual visitors, but we hope we will see some of you on the river this year. A list of nearby accommodation can be found at http://www.ireland.com/…/republic…/galway/leenane/all…"
Aasleagh Lodge IFI's very own Fawlty Towers is still showing up on the Trivago booking website but has no dates available. It is also still advertised on LetsBookHotels.com but any attempt to book receives the following message. "Sorry, this hotel has no rooms available for the dates of your stay. Please Change Dates and try again or Click here to see available accommodation in this area."
More to Come
The "Inland Fisheries Ireland" saga is likely to go on and on so watch out for future episodes. They are likely to continue shining a revealing spotlight on the mindset and the kind of dirty dealings that go on in State bodies and Quangos.
See also Episode 1
Inland Fisheries Ireland Stinking Fishy Business Funding a Nonexistent Club